A phlebotomy technician is typically an interchangeable job title for a phlebotomist. Phlebotomy technicians have several important roles in the phlebotomy field that starts with interacting with a patient and ends in the laboratory. In between, a phlebotomy technician will have to go through several job tasks each day to make sure they're getting their job done correctly, efficiently, and safely.
So, what is a phlebotomy technician? In this article, we'll cover not only what they do on a day-to-day basis, but the training required to become one, how much you can expect to make, and the difference between a phlebotomy technician and phlebotomist. If you've ever been interested in a career in phlebotomy, you'll find the answers here.
[su_list icon="icon: check-circle"]
What Does a Phlebotomy Technician Do?
Because of the ever-growing demands of the healthcare field, thanks to advancements in technology, and new medical breakthroughs, becoming a technician is starting to be a career that appeals to many people. You don't even have to have any prior experience in the medical field.  But, it's important to know ahead of time what you're getting into before you begin any job, and starting a career as a phlebotomy technician, although rewarding, is no different.
You'll have a wide variety of jobs that deal primarily with patients, and lab work. Both are equally important to the integrity and success of your work, and when you're handling medical information of any kind, you could be saving lives in every moment. There isn't one aspect of the job that's more important than another when people's general health and well-being is at stake.
You are technically considered to be a laboratory expert. Your main job, every day, is to obtain blood samples from patients and submit them to the lab for analyzing. Are you looking for something more specific? The National Phlebotomy Association lists out the duties of a phlebotomy technician or phlebotomist:
Verify medical records: Obtaining them from the patient's chart and verifying with the patient.
Conduct patient interviews to obtain a prior medical history: If you're working with a new patient, it's important to know their previous medical experiences and medications.
Check vital signs: Blood pressure, pulse, etc.
Obtain blood samples through venipuncture: It's important to have a refined skill when it comes to venipuncture, so you can not only find a vein quickly but make your patient more comfortable.
Prepare blood samples for lab analysis: The right kind of labeling, color-coding, etc. is needed to make sure the samples are accurate and will be analyzed correctly.
Test and analyze blood samples.
While these may seem like fairly simple tasks (with the right on the job training), it's important to understand the responsibilities that come with working in the medical field. A phlebotomy technician is an entry-level job, but many people use it as a springboard toward a long career in medicine. Nurses and even doctors sometimes start out as phlebotomists.
One of the most important things you can consider when you're thinking about a career is how well you work with people. As a phlebotomy technician, you'll be dealing with people from all walks of life, and of every different age. Of course, obtaining blood samples and analyzing them at a laboratory is important (and what can save lives), but interacting with people will be the first point of your job every single day, and that can mean so much more than a friendly greeting.
Being able to find a vein quickly/easily, or find an alternate vein if needed, can be extremely important when it comes to the patient's overall comfort level. That's just one thing you learn in training.
Training to Become a Phlebotomy Technician
You may be asking as you go into any training for phlebotomy field: What's the difference between a phlebotomist and phlebotomy technician? Well, there are different opinions on the subject, but there is essentially no difference. If you want to dig deep into finding a difference between the two, you could say that a phlebotomy technician is anyone who works in the lab, while a phlebotomist both draws blood and works in the lab. But, they are interchangeable job titles.
That being said, when you go to start your training, don't worry about the differences. Training to become a phlebotomist will also give you the training to become a phlebotomy technician.
Typical training will consist of a course that typically takes anywhere from 4-8 months. During this period you will either be working in a classroom setting or through online courses. It's a good idea to try to get hands-on experience as much as possible during this time, as well.
Many training programs will even require students to perform so many venipunctures before completing the training, which can be a great way to prepare for your first phlebotomy job once your training is complete.
Many states now require a step above just basic phlebotomy training, and if your state is one that requires you to be a certified phlebotomy technician before getting hired for a job, that can mean another month or so of training. Becoming certified, even if your state doesn't require it, is a great way to be a 'step ahead' your competition when searching for a job in phlebotomy. It's important that you select the right phlebotomy training school.
Where Qualified Technicians Work
Technicians can work in a wide variety of different facilities and for different organizations. First and foremost, most people immediately think of hospitals when they think of phlebotomists. And while hospitals are the largest employer of phlebotomy technicians (with about 52% of all technicians working there), don't feel as though you have to limit yourself to a few local area hospitals for a job. This is especially true if you live in a smaller area that may not have many hospital openings or career opportunities. It's always a good idea to get creative with your search.
They can work in smaller clinics, 24-hours emergency centers, private practices, nursing homes, veteran hospitals, and more. Anywhere you might be able to think of that needs blood drawn for patients on a regular basis (or even a part-time basis, for events, etc.) will always be looking for qualified phlebotomy technicians to work with them. Even if you only start out with a part-time position, things can quickly turn into full-time jobs if you show the right skills and dedication.
If you're looking for a great way to get started, you might want to consider taking on an internship or even doing volunteer work after you've completed your training. There are a few ways to go about this:
If you're looking for volunteer work, a good place to start is the American Red Cross. They always have needs for qualified professionals to work at blood drives, within their facilities, etc. However, other organizations need certified employees from time to time, too. Be on the lookout for volunteer opportunities in your area to see where you can get your foot in the door, and gain some hands-on experience.
Getting an internship as a phlebotomy technician can help you out in two different ways. First, it's a great way to gain experience. No matter where you choose to get an internship, you'll be working alongside professionals and learning how to deal with patients, and perform specific duties every single day. This kind of experience looks great on a resume. If you have more than one internship, you can put together a glowing resume for yourself.
Secondly, an internship can give you the right kind of experience for a specific location. If you happen to get an internship at a hospital, there's a good chance that after an extended period, you could be hired there for an actual staff position.
That way, you'll already know the layout of the hospital, the protocol and safety procedures, and even the staff. Getting hired into a hospital, you've already been interning at can be a really lucky break for phlebotomy technicians just starting out.
Since phlebotomy itself is such a popular career field at the moment, finding a job shouldn't be too hard to do. A quick online search for hospitals, clinics, etc. near you should give you a pretty good start once you've completed your training and phlebotomy certification.
How Much Does a Phlebotomy Technician Make?
There's another reason phlebotomy is such a popular entry-level career: It offers a decent salary. When compared to other entry-level jobs in retail, office work, etc., phlebotomy not only has a great payment standard, but you can likely get several benefits when you work full time, as well.
On average, how much you can make as a phlebotomist depends on how often your work. One of the great things about becoming a phlebotomy technician is that you can often have a flexible schedule, allowing you more time for schooling, family, etc. Most on-staff phlebotomy technicians will make an average of around $13.50 per hour.
If you become a full-time phlebotomy technician for a hospital or other medical facility, you'll likely receive a standing salary (and as a result, benefits, which should be factored into how much you're making from your job.). As a full-time phlebotomy technician, you can make an average of around $28,000 a year.
Again, this is an entry-level position with tremendous room for growth, so as a starting point for a career, the salary is a perk. Even if you move up to a supervisory position in phlebotomy, you can make around $42,000 a year, so sticking with the career can have many rewards in a very short amount of time if you make attempts to advance in your position with promotions.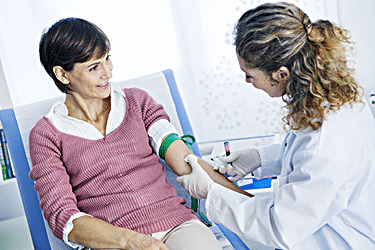 The salary opportunities for phlebotomy technicians could very well continue to grow upward, because of the high demand for good phlebotomists in large hospitals and even small private practices alike.
A recent study by the American Society for Clinical Pathology (ASCP) determined that between 2010 and 2020, there could be a need increase of up to 15% for phlebotomy technicians in the medical field, and as that demand rises, increases in starting pay will also likely rise. We're in the middle of that gradual incline right now, and as it continues to keep growing, more and more jobs will need to be filled. It's a positive outlook for a booming healthcare industry that shows no signs of slowing down, thanks to continuous advancements all around.
Becoming a Phlebotomy Technician
Deciding to become a phlebotomy technician can open the door for many opportunities, both in the medical field and for other careers in general. It's a great entry-level job for just about anyone, and a rewarding way to help people on a daily basis.
With minimal training, inexpensive tuition, and on-the-job experience, you can become a qualified phlebotomy technician in no time. Now that you know more seek out further information for training centers near you, and get started on your journey today. In less than a year, you could be a certified phlebotomy technician, and now that you know the basics of what a phlebotomist does, you'll be one step ahead as you get started.
[/su_list]