Becoming a phlebotomist can provide you with a competitive salary when it comes to an entry-level position. On average, phlebotomists make about $16 an hour. Annually, that's almost $33,000 each year. If you think just because this is an entry job there's no way to increase your salary, think again! Several factors can help a phlebotomist get a pay raise.
The first thing to understand is the job outlook for this position. So many people nowadays experience uneasiness at their job because there is little security. That likely won't be the case with a phlebotomy job. It is one of the fastest-growing careers in the medical field. According to the Department of Labor, phlebotomy positions are expected to grow 25% from 2014-2024.
So, no matter how much money you make you can take comfort in knowing you'll have an excellent job for many years to come if you do it well. That's important because as the demand for phlebotomists increases, the salary could too. Hospitals, clinics, etc., could be willing to pay more for qualified phlebotomists so that you could start out with an even bigger paycheck.
Job security is excellent in the healthcare field. But, it doesn't mean you're stuck with the same salary for the rest of your life. There are ways a phlebotomist can boost their pay. If you're thinking about phlebotomy as a career or are currently in training, keep these suggestions in mind as you look for a job. If you're already a phlebotomist, it's never too late to increase your salary.
[su_list icon="icon: check-circle"]
How Can I Increase a Phlebotomist Salary
This guide will offer a few of the best ways a phlebotomist can make more money. Sometimes, you can start out making more money than others just by doing your research. But, even if you're already in a position, there are many opportunities for more money.
It's a misconception that phlebotomy jobs don't offer growth. While some people do use it as a way to get into other medical positions, you can have a long and lucrative career as a phlebotomist for years.
The amount of money you make as a phlebotomist depends on your location, experience, and how much training you have. You can use those factors to your advantage. Let's take a look at how you can work to make more money in this position.
Select the Right Location to Work
Before you get hired for a phlebotomy job, consider your options. Because these jobs are in such high demand, there's a good chance there is more than one place looking for a phlebotomist near you. Location can make a big difference in the salary of a phlebotomist.
For example, a phlebotomist in Sacremento will probably make more than a phlebotomist in Kentucky. In fact, California is one of the highest-paying states for Phlebotomists. Some other states that have the highest phlebotomy salaries are New York, Illinois, and Florida. But, that doesn't mean you need to cross state lines or move to find the best salary. Instead, do your research with local hospitals and clinics near you.
Don't limit yourself to working in a hospital. That is usually the first place of employment people tend to think about. But, before you settle for a job, consider your location options. Interview with several places to determine which environment is the best for you. Hospitals don't always pay the highest amount.
If that might be the case where you are, try interviewing with places like:
Clinics
Private practices
Health agencies
Private agencies
Typically, the highest-paying phlebotomy jobs come from insurance carriers. Working as a phlebotomist for a government organization comes in a close second when it comes to the highest salaries offered. Thinking outside the box and looking for jobs outside of hospitals can make it easier to get hired and may end up securing you a higher salary.
When interviewing for a phlebotomy job, keeping track of who pays the most could be a deciding factor for you. But, keep in mind that salary shouldn't be the only reason you choose a job at a particular location. Think about where you would be the best fit and what you like about each option. Then, you can narrow down your selections through things like salary and benefit packages.
Don't Ignore Your Benefits
Speaking of benefits, they are something that often gets overlooked when you're considering a job in phlebotomy. A full-time phlebotomist is usually entitled to a benefits package from their employer.
Benefits shouldn't be ignored when it comes to how much you're getting paid for a job. It isn't necessarily all about the money you're bringing home in a paycheck each week. For example, if one position offers a high salary but poor benefits package, you might be taking home less money than you think. Or, you'll have to spend money of your own to cover things like insurance.
An excellent benefits package can save you thousands of dollars a year. It can do even more than that if you ever have medical issues of your own, or if you have a family. Hospitals typically offer significant benefits, but it's still a good idea to shop around.
When you're looking for a job or wanting to make a change to somewhere new, it's important to factor in all the numbers. Think about how much you're saving each month because of your benefits, not just what your paycheck says.
Benefits don't always have to be insurance opportunities. They can help you save money and make money for your future, too. Some employers will offer things like stock options of 401k plans. Consider these 'future benefits' too. They can be helpful when you're ready to retire or work on a part-time basis.
Become a Certified Phlebotomist
Currently, there are only a handful of states that require certification. But, more states will likely start to demand it over time. For that reason alone, it's a good idea to extend your training and get your phlebotomy certification.
Important: Being certified can help you when it comes to your salary. On average, a certified phlebotomy technician makes about $2.00 more per hour than a non-certified phlebotomist. Both types of phlebotomists will likely get pay raises over time. But, being certified will always keep you slightly ahead of your non-certified counterparts.
Being a certified phlebotomist also looks better on a resume. You'll have more opportunities for higher-paying positions than you would without being certified. You may also get hired much faster to more credible healthcare facilities. Some phlebotomists might also look at certification as a way to get faster promotions in the future.
You might be wondering if the extra training needed to become certified is worth it? Most phlebotomy training programs that include certification still last less than a year. Even the most expensive ones are usually around $2,500 or less for the entire course. There are exceptions to this, of course, but that's about what you can expect if you stay through training to become certified.
An average starting salary for a certified phlebotomist is around $14.00. For a non-certified phlebotomist, it's about $12.00. If you work full time (40 hours a week), you'll make about $4000 more per year than a non-certified phlebotomist if you get your certification. That takes care of the $2,500 in training fees and then some. So, is the additional certification worth it? Yes, in more ways than one, it's a great way to make more money as a phlebotomist.
Getting a Degree in Phlebotomy
There are many different phlebotomy training programs and schools all over the country. But, some aspiring phlebotomists choose to attend college. Getting a two or four-year degree can be helpful when it comes to getting more money as a phlebotomist.
Because there are specific phlebotomy training programs, you might wonder why someone would spend more time and money getting a college degree. Getting a degree can help you get hired faster because it looks better on a resume. But, you could also choose to use phlebotomy as a stepping stone to a medical career.
Many people choose to get degrees and start out in phlebotomy have plans to achieve a higher position later. Some become nurses, medical assistants, or even physicians. You can go to college before applying to be a phlebotomist.
But, because phlebotomy tends to allow for some flexibility, you can often still take classes and have a phlebotomy job at the same time. This is an excellent option for people who want to get promoted or have a different position in medicine. Phlebotomy allows you to keep going to school. You don't have to choose between a job and continuing your education.
Can a Phlebotomist Get Promoted?
Getting promoted is another way you can increase your salary as a phlebotomist. The first thing you can do if you're interested in being promoted is to consistently talk with your supervisors and those who are in higher level positions. If they know you're interested in doing more, they're more likely to keep you in mind when they need a position filled.
Promotions for phlebotomists come with experience and individual skill levels. You can also choose to get various certifications. Extra training can help you stand out among your fellow-phlebotomists. If you have more skills that have been certified, you can get hired for a position that pays more.
Some examples of promotions a phlebotomist can achieve include:
Phlebotomy Specialist: No extra schooling is needed to become a specialist. It's one example of a phlebotomy promotion that comes with time and experience. You'll do many of the same tasks, but you could get a pay raise with the new title.
Mobile phlebotomist: A mobile phlebotomist is someone who works in different environments. They are also known as traveling phlebotomists. You can work for a specific hospital or agency or on your own. You'll travel to places like clinics, nursing homes, or even blood drives. You may also work with registered nurses who can't perform phlebotomy. This type of work allows you different opportunities. The amount of money you make is usually reflective of how much you choose to work. If you eventually want to work in a hospital or private medical facility, having years of mobile experience on your resume could get you a higher salary.
Therapeutic Phlebotomist: This will require extra training. They also need a different type of certification. But, that comes with a salary increase most of the time. Therapeutic phlebotomists work with patients who get their blood drawn for medical reasons. Often, about a pint of blood is collected from these patients instead of small samples. It's regularly performed on patients who have too much iron in their blood, or other conditions. A non-therapeutic phlebotomist can't perform this procedure.
Phlebotomy Supervisor: You can get a supervisory position in phlebotomy with years of experience and extra training. This position usually requires a Bachelor's degree. But, the additional training comes with an increase in salary. A phlebotomy supervisor helps to keep track of all phlebotomy techs in a medical facility. They make sure rules and safety regulations are being followed. Phlebotomy supervisors also ensure things like labeling and scheduling are done correctly. Think of it as a managerial position for a group of phlebotomy techs. It tends to be quite a bit more work, but the pay is worth it.
Other Medical Field Jobs for Phlebotomists
Getting a degree or continuing your education can also help you get promoted to other medical positions. Using phlebotomy as a stepping stone is something many people in the healthcare profession.
Some of the most common positions you can work up to include:
Registered Nurse: They are needed in hospitals and clinics as much as phlebotomists. RNs can do a lot of different things. This includes everything from giving medication to monitoring a patient's recovery. Some registered nurses aren't able to draw blood from patients. Having a phlebotomy background will make you a stronger candidate if you want to get hired somewhere as an RN.
Hematology Technologist: An Associate's degree is required for this position. But, if you have an interest in blood diagnosis, it's a significant step up from phlebotomy. It also comes with a more substantial salary. A hematology technologist not only draws blood from a patient, but they analyze it as well. Then, they report their findings to the patient's physician.
Medical Assistant: They can do both administrative and clinical work. Individual states don't allow medical assistants to draw blood. But, if you have phlebotomy certification and you become an MA, you can perform a venipuncture. That can make you a more appealing candidate for a medical center looking for an assistant.
Medical Lab Technician: They can perform many of the same duties as a phlebotomist. But, more education is required to become a medical lab tech. You'll need at least a Bachelor's degree for this job. Responsibilities include preparing lab specimens for different types of tests. They use much of the same equipment as phlebotomists. So, phlebotomy can be a great stepping stone for this job. Because it takes more schooling, you can also expect a higher salary as a medical lab technician.
Working Extra Hours and Contract Work
As we suggested earlier, phlebotomy can often allow for a lot of flexibility. Most hospitals, for example, have several phlebotomists on staff. This makes it reasonably easy to find a schedule that works for you. Because of this, there are two opportunities you can use to make a little more money.
First, you could work more hours at your place of employment. If you're looking to boost your paycheck, you should ask your supervisor for more hours. Or, always be sure to let your fellow-phlebotomists know you can fill in for them if they need a day off for any reason. It might not seem like it but working a few extra hours each week can add up and potentially earn you thousands of extra dollars each year.
The other way to earn more money outside of your standard job salary is to find contract work. You can have a full-time or part-time phlebotomy job at a medical facility and still do mobile work on the side for extra money. Many different places might need a phlebotomist once in a while, but not enough to have one on staff all the time.
These places include:
Nursing homes
Prisons
Assisted living centers
Community centers
Even doing volunteer work for the Red Cross can look good on your resume and make it more likely for you to get a lot of extra contract work. If you're willing to put in more hours, and you can get creative about different ways to do it, you can make a lot more money without having to get more training.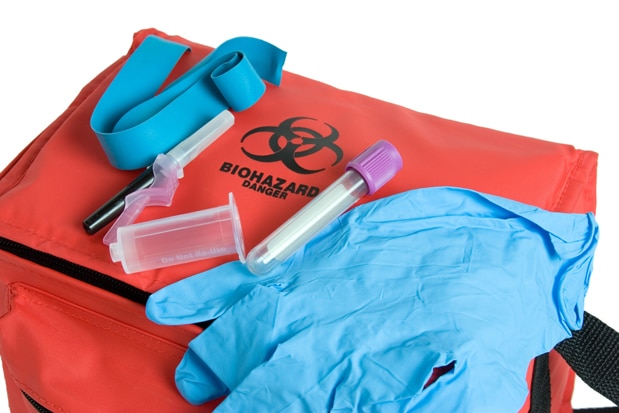 Can You Make a Living as a Phlebotomist?
If you work in a lower-paying state for phlebotomists, you might be wondering if you'll be able to make a comfortable living with this job. More often than not, the answer is yes. A phlebotomist, on average, will make between $20,000-$30,000 each year. Some may earn less, while others will earn more. As you can see, there are a lot of different factors that play into how much you'll make as a phlebotomy technician.
One thing to keep in mind, though, is that 'making a living' doesn't only reflect how much money you bring home. Look at other aspects of the phlebotomy job before deciding if it's right for you.
Here are some factors to consider if you're wondering whether the pay is worth it or not:
Typically, phlebotomists work 40 hours each week. You can work more if you're looking for extra money. These hours usually fall between regular business hours on weekdays. But, some hospitals and clinics may need their phlebotomists to work nights and weekends. You may even have to work holidays sometimes.
As a phlebotomist, you'll work with different people each day. You'll draw blood from children to senior citizens, and you may even have some problematic patients. You also need to be able to work well as a team member with other members of the hospital staff.
Determine what your goals are before starting a job as a phlebotomist. Do you want it to be a life-long career? Or, do you want to use it as a stepping stone for another healthcare job down the road? Making this decision can help you determine if you can make a living doing this job, or if you can make it work while looking for something more lucrative.
Is it Easy to Boost a Phlebotomist's Salary?
There are several different ways to boost your salary as a phlebotomist. Some of them are easier than others. Some take more time than others. There are many factors about your salary as a phlebotomist that have more to do with circumstance. These include things like the state you work in or where you're hired.
Most of the suggestions on this list, though, are things you can work toward to make more money as a phlebotomist. Getting certified as a phlebotomist is a great place to start. From there, you can continue your education as use phlebotomy as a stepping stone to another medical career. Or, you can become a phlebotomy specialist in a particular area.
Working more, taking on more contract work, and gaining experience are also great ways to end up making more money as a phlebotomist. Even though it's an entry-level job, that doesn't mean there isn't room for growth and an increase in salary.
It's okay to be picky when you start looking for phlebotomy jobs. If you already have one, it's never a bad idea to 'shop around' once in a while. See what phlebotomists at other hospitals or clinics might be making. Small strategies can help you increase your salary and get more out of being a qualified phlebotomist.
[/su_list]