Healthcare is one of the top industries for employment. It's one of the few sectors that is projected to see consistent growth for the next several years. Beyond that, the medical field is one that will always be around. People will always need medical care, especially given that we have an aging population. But, what you may not know is that there are many overlooked medical careers.
It's easy to think that a career in medicine means you have to go to school for many years. But, there are many 'weird medical careers' that are less well known. These careers range from working directly with patients to working behind the scenes. You don't always need years of extensive training to have a vital healthcare job.
In fact, choosing one of these exciting careers in medicine can make you an asset. Because they aren't as well-known, they also may not be as competitive. But, it doesn't mean employers aren't looking for great people to fill these positions. With the right qualifications, you could find one of these jobs quickly.
If you've always been interested in healthcare but you aren't sure it's the right fit for you, keep reading. You may have just not found the perfect opportunity. We hope one of these unusual careers in medicine is the right option for you.
[su_list icon="icon: check-circle"]
What Are the Most Overlooked Medical Careers?
The medical field is filled with out-of-the-box alternatives to a 9-5 office job. You may not think you have the skill set required to have a job in healthcare. But, with some of the jobs listed in this guide, your mind could be changed.
Not everyone interested in medicine has to go down the same path. If you've never thought about one of the following careers before, they could end up being the perfect fit.
In a diverse industry that continues to grow, finding the right job can offer a lot of security and room for a long and happy career. Many of these are underrated jobs with amazing salaries! So, let's take a look at some of the most overlooked medical careers.
Midwife
Many people probably don't realize that midwives are in high demand today. It may sound like a position from the past, but thousands of pregnant women still rely on the help of a midwife to get them through the process of labor and beyond.
Some women want a specialist by their side when they're giving birth, not just a nurse. That's where a midwife comes in. Not only do they help during labor, but they support the mother during pregnancy, and afterward. They can be essential to some women when it comes to post-partum care.
The great thing about being a midwife is there are so many opportunities for employment. Hospitals and birthing centers often hire midwives to be on-call. But, some midwives work remotely and go from home to home, helping pregnant women and laboring mothers.
As you might expect, this is a demanding job with on-call hours that can vary on a regular basis. But, it's flexible, especially if you decide to work on your own and not for a medical facility. It can also be an incredibly rewarding career. Midwives can go beyond the basic tasks of what a nurse might do in delivering a baby. This helps to provide comfort and security for the mother, even after the child is born.
Licensing from the American College of Midwives is required to become a midwife. Midwifery programs can range from an associate's degree to a master's degree. No matter which level you choose, you have to become certified by a licensed agency. Certification updates will also be required throughout your career. But, if you keep it up, the salary of a midwife is exceptionally competitive. They can make up to $96,000 each year.
Cardiac Perfusionist
If you've ever had an interest in the surgical side of medicine, you don't necessarily have to have 10+ years of schooling. A cardiac perfusionist helps with open heart surgeries. It is their responsibility to pump the patient's blood during the time the heart is stopped. It's an incredibly important job, but it's also in high demand.
Heart surgeries are becoming more common as the general population continues to get older. Advancements in technology are making heart surgeries more common, too. So, there is an increase in the need for this position, and few people know about it.
To become a cardiac perfusionist, you'll need a bachelor's degree. Certification in clinical cardiac perfusion is also required.
If you work well under pressure and don't mind working in a surgical atmosphere, this could be an excellent job for you! Cardiac perfusionists can make up to $90,000 a year working in a busy hospital.
Phlebotomist
Chances are, you've had your blood drawn at some point in your life. It was likely a phlebotomist that performed that procedure. Phlebotomy is often considered a stepping stone to a medical career. It can be looked at as a skill, rather than a long-term career. But, there is no reason it can't be a life-long job for someone who loves it.
It's the responsibility of a phlebotomist to draw blood from patients. They are also responsible for correctly labeling and transporting that blood to a lab for testing.
The unique thing about this job is that it requires a strong bedside manner. You'll meet different people every single day, and not everyone is going to be thrilled about getting their blood drawn. Sometimes, a phlebotomist is the first person a patient will see before getting other tests done or seeing a doctor. Being able to make your patients calm and comfortable is essential.
Perhaps the best part about training to become a phlebotomist is that it needn't take long. There are 3-year degree courses, but there are also training and certification that can take less than a year. You can even complete coursework online. But, an accredited program requires you to perform draws on people before completing your training.
Phlebotomists can work in a variety of different places. They are needed in hospitals, clinics, nursing homes, jails, and at blood drive events. Because more illnesses and conditions can now be tested with blood draws, there is a growing need for qualified phlebotomists.
As a phlebotomist, you may work part-time, or even set your schedule in some cases if you work on a freelance basis. On average, a phlebotomist makes about $32,000 per year.
Music Therapist
More than ever, people are looking for alternative forms of medicine. Because of this, things like music therapy have grown in popularity. Music therapists treat a variety of different patients and their conditions.
It has been shown that this type of therapy can help with things like:
Depression
Motor skills
Speech skills
Mobility
Becoming a music therapist can be an excellent opportunity for a seasoned musician. But, it does take some formal education. To become a music therapist, you must have a bachelor's degree or higher from an American Music Therapy Association (AMTA) training program or college. You will then need to complete a national board exam to be able to work professionally.
According to the AMTA, the median salary for most music therapists is around $45,000 each year. It's a great way to take a different approach toward helping people. If you have a passion for music and truly care for people, combining the two can make you a wonderful music therapist.
Medical Transcriptionist
Want to work in the medical industry but don't want to deal directly with patients? One of the most overlooked careers is a medical transcriptionist. As a medical transcriptionist, your responsibility is to type out recordings of doctors into medical reports.
It's crucial that a medical transcriptionist has strong attention to detail and can work smoothly with transitions. Previous experience with dictation is helpful to create transparent reports.
There are many benefits to becoming a medical transcriptionist. First, it doesn't take years of schooling. Either an associate's degree or certificate in medical transcription is needed. If you want to get a certificate, sometimes it can only take a matter of months.
Medical transcriptionists can either work in hospitals or doctor's offices. But, thanks to advancements in technology, it's quickly becoming a favorite at-home position, too. The benefit of that is that you can virtually set your own hours. The amount of money you'll make as an at-home transcriptionist will be a direct result of how much you're willing to work.
It's a perfect opportunity for someone just starting out who wants an entry-level job. Or, if you've had a long career and are looking for something part-time, this is a way to help others while making money from home.
Dental Technician
Dentistry is another booming sector of the healthcare industry. Again, the aging population has to do with the growth of dentistry. People are taking better care of their teeth, but more people also need things like dentures, crowns, etc.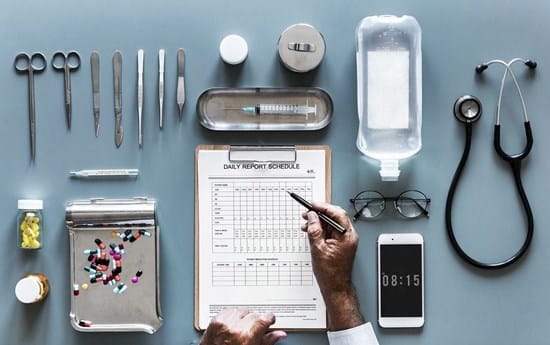 If you have an interest in dentistry but don't want to work directly inside people's mouths, there is still an option. You can work behind the scenes as a dental technician. Dental technicians never directly see patients, and never have to perform cleaning, x-rays, etc.
Instead, a dental technician works behind the scenes in a lab. They create things like dentures, partials, crowns, etc. Anything used to replace or repair a patient's teeth is usually made by a dental technician. Not only is it a unique job, but it's a great job for introverts that requires strong attention to detail.
A certified dental technician can make around $50,000 each year. As far as training or schooling goes, you have options. Some dental techs choose to get a 2-year associate's degree in the field. But, there are certified dental technician programs available as well.
If you receive your training through an accredited institution, you should have no problem securing a great job as a dental tech. It's a wonderful way to help people regain their smile without having to work directly with patients on a daily basis.
Dosimetrists
If you've never heard of a dosimetrist, it's because they are one of the most underrated and somewhat unknown jobs in the medical profession. But, it is a critical job that requires a special person to do it.
A dosimetrist specializes in radiation. They work with radiologists to help treat cancer patients and people with diseases that are treated with radiation.
To become a dosimetrist, you first have to be a registered radiation therapist. A medical dosimetry program can take about 12 months to complete. But, many places need their dosimetrists to have a master's degree in radiation therapy to work with patients.
It can take a long time to become a certified dosimetrist. The risks are also high. You'll work daily with radiation and radioactive materials. Taking every possible safety precaution is necessary to protect yourself and your patients.
But, if you have a passion for work like this, it's a rewarding and lucrative position. Dosimetrists make an average of over $112,000 each year, depending on their location and degree.
Sonographer
If you think a medical job that allows you to work with patients takes years of schooling, think again. One of the best medical field jobs in high demand is a sonographer. Sonographers use special machines that emit sound waves. From these soundwaves, they can see things like muscles, joints, and internal organs of a patient.
Sonographers need two sets of skills. First, they have to fully understand how to operate the machinery they are using on each patient. Sometimes, this machinery can change with technology, so they always need to be in the know when it comes to these changes.
They also need to be able to understand the images they're recording from the machines. A sonographer may not officially diagnose a patient, but they need to be able to tell a doctor if the patient is healthy or if they feel they have a critical illness, etc.
If you want to work directly with people in the medical field but don't want to go to medical school, this is a great opportunity. It doesn't even take a bachelor's degree to become a sonographer. In most cases, an associate's degree is required, as well as some on-the-job training. That makes it one of the most lucrative medical jobs you can have without intensive schooling. Most sonographers can make an average of over $63,000 each year.
IT Specialist in Healthcare
Another job that has nothing to do with working with patients but is equally important is an IT specialist. The current environment in the healthcare industry greatly depends on technology. Technology needs to work correctly and is always changing. So, healthcare IT specialists are incredibly important.
If you're already an IT specialist in another industry, the turnover is easy. You don't necessarily need more training to work in healthcare. But, some facilities may show favor to you if you have some experience or direct knowledge of the medical field or work in a clinical setting.
An IT specialist has the responsibility of keeping up all the systems and networks of everything from huge hospitals to small private practices. You should be knowledgeable about a wide variety of computer programs. Everything from word processing to security software is necessary for IT specialists to be aware of, especially in a clinical setting.
In a healthcare environment, IT specialists also need to make sure patient data is always secure and available for the people who need it on a moment's notice. If a healthcare facility has problems with its database, it can be catastrophic. So, this can be quite an important and high-intensity job at times.
The primary benefits of being an IT specialist in the healthcare industry is that you'll get to grow with the industry itself. Because new technology is always emerging, you'll get to work with cutting-edge systems and learn along with them. You'll also typically have a flexible schedule and may even be able to be your own boss.
Healthcare IT specialists also make a decent annual salary, at around $36,000 each year. If you love technology and you've always had a knack for computer work, you could be a tremendous asset to the medical field.
Dietitian
Dietitians typically work one-on-one with patients and get to know them on a more personal level. They study the science of nutrition and food, and how they affect the body. Dietitians are needed for a variety of things.
Sometimes, they are recommended to patients by their general physicians. Patients with certain illnesses or conditions may need to follow specific diets or nutrition plans. Other patients may need to lose weight, gain weight, or decrease their intake of certain foods.
Not only does a dietitian help with nutrition plans, but they can also create an exercise program for their patients, too. It all depends on what the goal of the patient may be.
Usually, to become a dietitian, a degree in dietetics is required. You also need to take a registered dietitian exam once you've completed that degree. A renewal of your certification may be necessary as time passes.
Even with all the schooling, it pays to be a registered dietitian. You can work in a hospital or long-term care facility. Or, you can choose to be your own boss and work from your own office or home. This gives you a lot of flexibility and the ability to see more or fewer patients, depending on your schedule.
On average, a dietitian makes about $60,000 each year. If you have a passion for healthy lifestyles and showing people the best way to make nutrition work for them, this is an underrated career that could be a perfect fit for you.
Genetic Counselor
Genetic counseling is still a relatively new practice, so it's one of the unknown healthcare professions on this list. Genetic testing is mostly done to help determine if someone might pass on a medical disorder to their future children. It's now often offered as an option for pregnant women.
Many women are eager to have genetic testing done to better prepare themselves for the possibilities that may come ahead with their baby. It is becoming more standard for doctors to refer women to genetic counselors, but it continues to be a growing industry.
As it continues to become more regular, additional qualified genetic counselors will be needed. If it's something that might interest you, now is the perfect time to start in on this career path.
To become a genetic counselor, a bachelor's degree in a healthcare-related field is typically required. You'll then need to earn a master's degree and get certification. So, it can take several years to become a genetic counselor. But, by the time you complete this training, genetic testing will likely be more popular.
The salary of a genetic counselor is worth the time it takes to become one, too. On average, a genetic counselor makes about $70,000. But, the salary can reach nearly $80,000 for some.
Which Medical Speciality is Right for Me?
Though some of the options on this list might seem like weird medical careers, they are often the ones that are overlooked and in high demand. Because healthcare is such a varied industry, it's important to think outside the box. Being able to scope out different careers in the industry is vital for its growth.
Working in the medical field doesn't always have to mean dealing with patients or getting a doctoral degree. As you can see, there are many different types of jobs in medicine that are just as important. They can help a lot of people, and there's a growing need for all of them. You can even change career without medical experience.
[/su_list]