Many people are interested in a career in phlebotomy because it can take less than a year to complete training. You don't always need a college degree or years of schooling to become a phlebotomist. You can learn the phlebotomy basics in just a matter of months.
You may already have a basic phlebotomy knowledge. Most people know that it's the practice of drawing blood. But, when you sign up for a training course, you end up learning there is a lot more to this career than what you might initially think.
Understanding the phlebotomy procedures and how to work with patients correctly is essential. It takes the right kind of person to become a good phlebotomist. But, if you're interested in it as a profession, it's one of the best entry-level medical jobs available that doesn't take a lot of training.
But, what can you expect when you sign up for phlebotomy training? The basics are covered quickly. Then, you can choose whether you want to become a certified phlebotomist. The entire process can be a great stepping stone to a career in medicine. Or, you can make a lifelong career out of being a great phlebotomist. It all starts with the right training and learning the essentials.
[su_list icon="icon: check-circle"]
What Should I Expect from Phlebotomy Training?
This guide will cover everything you need to know about phlebotomy training and what you should expect. If you have an interest in becoming a phlebotomist, it's important to know what you'll be doing during your training period. It's also important to know why these different aspects of training are essential. Being able to use them in the 'real world' is the ultimate test for a good phlebotomist.
There are different parts of phlebotomy training basics to be aware of. Understanding will be expected of you can help you make an informed decision about becoming a phlebotomist.
Can Anyone Become a Phlebotomist?
If you decide to start training to be a phlebotomist, no prior college courses or experience in medicine is needed. Since it's an entry-level job, almost anyone is qualified to take a training program for this particular career field.
It does take a high school diploma or GED equal to sign up for a phlebotomy training course. Even if you didn't have the best grades in high school, it's okay. But, you need to do well enough to pass and receive your diploma or its equal.
You are also required to be at least 18 years old to sign up for a phlebotomy training course. This makes it an excellent option for anyone just graduating high school and looking for a successful career path right away. College isn't always an option for recent graduates. Phlebotomy training lets you learn a specific job in less than a year and starts you on the road to a lifelong career.
Though it's not necessary, you might have an easier time during training if you enjoy things like chemistry and biology. People interested in phlebotomy may also excel with certain personality traits.
These include things like:
Compassion
Patience
Empathy
Enjoys working with a variety of different people
Works well as a member of a team
Strong organizational skills
Certain physical traits can also be helpful to someone considering a career in phlebotomy. You may be on your feet long hours, and you should be able to move reasonably quickly. While these traits aren't required for training or the job, you may find the experience easier if you have them.
Where Can I Complete Phlebotomy Classes?
Because phlebotomy is such a fast-growing career path, there are many places to train to become a phlebotomist across the United States. Some colleges offer the phlebotomy program. But, you don't always need any degree to become a certified phlebotomist.
There are also training facilities across the country, too. Because so many types of people have an interest in phlebotomy, courses usually have varying schedules. So, if you work another job, you're likely to be able to find classes at night, on weekends, etc.
Some hospitals are so eager to find qualified phlebotomists that they offer in-house training programs. This is a great way to get proper training. But, it can also make it easier for you to find a job afterward. Many times, the hospitals that train phlebotomists are eager to hire them. This is because those individuals know the hospital rules, safety methods, etc.
If you want to go one step further and become certified, most training facilities offer it as an option. There are also national organizations that provide training programs, including certification.
There's a good chance you'll find a training facility or classes offered somewhere near you. A quick online search of phlebotomy training courses near your city can help you to find the perfect fit. If you're not able to travel frequently, you can also enroll in online courses. These will help to take you through the classroom basics.
What to Expect from a Phlebotomy Training Course
In the 8+ months that you'll be studying to become a phlebotomist, the programs are usually broken down into two sections. The first part will focus heavily on a classroom-type setting. The second half of your training will be much more hands-on. Let's break down these areas of training a bit more, so you know what to expect.
The first half of your training will focus on what it means to be a phlebotomist and what you can expect on a regular basis in a typical workday.
Some of the topics covered in most courses include:
Human anatomy
Systems of the body (nervous, respiratory, circulatory, etc.)
Lab safety rules
How to label blood samples
How to perform venipuncture (drawing blood)
Medical terminology
Blood composition
One of the most important things you'll learn is how to sample blood and different techniques for doing it. You'll work with a lot of different people every day. This includes people of different ages and body types. Drawing blood from a newborn or a child is different than drawing blood from an adult or senior citizen. Learning the best way to draw from every type of person is necessary to be successful.
The second part of most training programs involves drawing blood. All the training in the world can help you understand the process of how to do it, but nothing is better than practicing blood draws for yourself. This is done under the supervision of the instructor or another phlebotomist.
Many times, students practice drawing blood from other students, or volunteers. Each training program has a specific number of successful blood draws that must be completed for a student to pass. Usually, this number is well over 100.
This part of training typically takes place in a hospital or clinic. So, not only does the student get direct supervision, but they also get a feel for the environment they could be working in.
Types of Equipment Used by a Phlebotomist
One of the most critical parts of phlebotomy training is understanding the basic equipment you'll have to use on a regular basis. Some pieces of equipment can be added. It all depends on the type of testing that's being done.
But, your training should include how to use the following tools properly:
Collection tubes with color-coded tops
Needles of different sizes used for collection tubes or as a syringe
Tourniquets
Needle disposal units
Alcohol Swabs
Gloves
Cotton swabs
Being knowledgeable of your equipment is essential in phlebotomy. Using the right equipment for each patient is necessary. This is all a part of being organized, too. Most phlebotomists will enter a room to draw blood with a tray. This tray should have all the necessary equipment for that individual patient.
Safety Procedures during Phlebotomy Training
Learning safety and sanitization in phlebotomy training is imperative. Each hospital, clinic, or private practice has their own rules on what you can and can't do. Many of these rules include extra safety precautions specifically for that location. But, there are some basic safety rules that all phlebotomists need to follow. These procedures are taught throughout the training period.
One of the most important things a phlebotomist needs to do is protect themselves and their patients. That's why alcohol swabs are used to clean an area before a needle is used. Phlebotomists should also always wear gloves when they are working with a patient. Personal protective gear should always be worn to keep yourself safe from any spills or accidents.
Using sterile tools is also essential. New needles and blood vials need to be used with every patient. Phlebotomists have to take responsibility for the equipment they use. This is done by testing it out ahead of time and determining which equipment is right for each patient's testing.
Finally, following safety measures for storing and transporting blood is vital. It's the responsibility of a phlebotomist to learn about properly labeling the vials of blood they draw. Those vials then need to be organized and transported to a lab for testing. This makes sure the patient's blood isn't wasted or mislabeled in any way.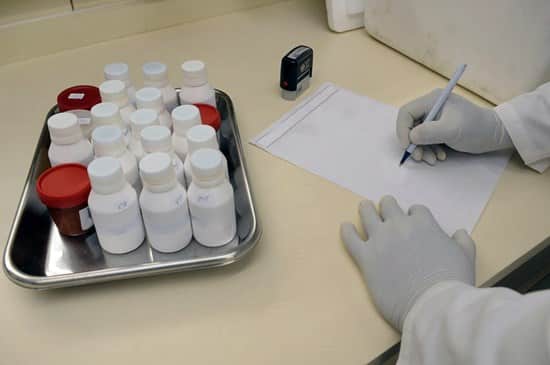 Is Phlebotomy Training Difficult?
It's easy to think that just because a training program takes less than a year that it's easy. Whether a phlebotomy training program is easy for someone or not will significantly depend on the individual. Some people might breeze through it without any troubles. Others may find it's not for them.
One thing to keep in mind is that you'll probably excel more in phlebotomy training if you have at least some interest in the medical field. It may be difficult for someone who doesn't have an interest in the human body or its functions. If you're squeamish about blood, it might not be the career for you in the first place.
Training can be easy when it comes to scheduling. Because so many phlebotomists are needed around the country, it's pretty simple to find a training program. But, that doesn't mean the materials covered are always easy. Don't assume that just because it's an entry-level job that it isn't taken seriously.
In fact, because phlebotomists see so many patients a day, it's important to pass your training program with confidence. If a phlebotomist messes up on the job by mislabeling a blood sample or harming a patient, their career and their place of employment could be in serious trouble.
Perhaps the hardest part of phlebotomy training is the understanding that accidents happen sometimes. So do unfortunate situations. It's crucial that you're confident enough in your training and skills that you can handle these situations if they ever come up.
Some potential complications include:
Having to use a different draw site if the original can't be used
Blood stops flowing into the tube during a draw
Patient has an adverse physical reaction
Patient has a hematoma
Training can't necessarily prepare you to stay calm under pressure. But, the more training you do have, the more likely it is that you'll be able to hand the above situations professionally.
Does a Phlebotomist Need to Take CPR Training?
Specific phlebotomy training programs throughout the country may either demand or offer extra sections to their courses. One type of training for phlebotomists that is becoming more common within the coursework is CPR training.
While it still isn't required by all states, most hospitals and clinics looking for phlebotomists prefer someone who can also perform CPR. Anyone working in healthcare should have some CPR training, and it can look good on a job application if you do. Even if you take a training course where CPR isn't required, it's a good idea to complete it on your own. In most cases, it only takes a few hours to get CPR certification.
How to Become a Certified Phlebotomist
If you complete your regular phlebotomy training program, you may want to become certified. Not all states require certification. California, Nevada, Louisiana, and Washington are currently the only states that enforce it.
But, it is a growing demand. Even if your state doesn't enforce it, becoming certified can increase your chances of getting hired in preference to someone else who is not.
Certification also allows you to complete more advanced procedures. Eventually, that can lead to a pay raise or may even let you start out making money than a phlebotomist who isn't certified.
Many programs that offer phlebotomy training also provide extra training to become certified. Each type of certification is slightly different.
Some of the most common certifications include:
Certified Phlebotomy Technician
Phlebotomy Technician
Registered Phlebotomy Technician
National Certified Phlebotomy Technician
The titles tend to vary based on where you choose to get your certification. Obtaining certification from a national, accredited institution is usually the best way to go.
Learning About Routine Venipuncture
Through the entire training program, a phlebotomy student will learn about routine venipuncture. There are many different aspects to what a phlebotomist does each day. But, knowing the basics of venipuncture and how to perform it on many patients is the primary goal of phlebotomy training.
While each program may do things slightly different, the basic concepts are usually taught for routine venipuncture:
Introducing yourself and identifying your patient correctly
Find a suitable site for venipuncture
Prepare the patient, equipment, and site of the puncture
Perform the blood draw following correct safety standards
Places samples in designated, labeled vials
Ensure patient is okay after blood draw with no complications
Transport specimens to the laboratory for testing
This might seem like a tedious list to perform many times in a day. But, training will teach you the importance of every single step. Forgetting to do just one can be dangerous. You could be putting yourself or your patient in harm's way. That's why each training program requires you to perform so many successful venipunctures before you're able to pass.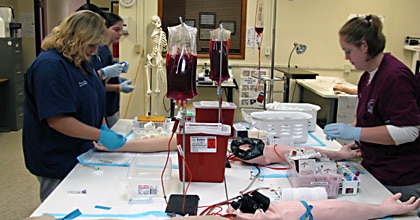 Different Types of Blood Draws
Most people do well with getting blood drawn from their arm. The site is where the bend of your elbow occurs. But, phlebotomists need to be able to draw blood from other areas, too.
There are several reasons why this is so important. Mostly, though, you want to be sure to draw blood from a viable vein. Some people don't have 'good' veins in their arms. As a result, blood can stop flowing during a draw, or you might not be able to get any blood out at all.
Because of these issues, being trained to draw blood elsewhere can be helpful for both you and your patients.
Some other common areas for drawing blood include:
Top of the hand
Foot
Scalp
Finger stick (this is used when only a small amount of blood is needed)
Heel stick (also used for a small amount of blood, typically on infants)
How to Choose the Right Phlebotomy Training Program
There are many training programs and schools to choose from all over the country. You can decide to take a national training program or find one in your hometown. It can be hard to know you're choosing the right one. But, there are a few things to keep in mind as you try to find the program that will work best for you.
Asking yourself these questions before making your selection:
Is the location convenient? There is no reason you shouldn't be able to find a training facility somewhere nearby. You're not going to want to drive a long distance several times a week to attend training. The more convenient the location, the better. Finding something close by can also help to narrow down your options.
How long does the program take to complete? Most programs take less than a year to complete, even with certification. But, the length of time can vary. Think about how much time you're willing to invest in coursework and what different area training programs offer.
Is it an accredited program? Perhaps the most important thing to consider when choosing a phlebotomy training school is whether it's accredited. Accreditation will not only allow you to apply for financial aid if needed, but it can be a necessity for some employers. You're far more likely to get hired if you trained at an accredited school. Many employers won't even bother looking at your resume otherwise.
Some people sign up for a program right out of high school. Others want something that fits around their current work schedule. The more a program works for you and your lifestyle, the more likely you are to stick with it.
Is Phlebotomy Training Worth It?
Phlebotomy shows no signs of slowing down as a booming career. In fact, as the population continues to get older and more technology comes forward, it will probably keep growing! Because of that, you're likely to find more training programs all over the country.
Training to become a phlebotomist can get into one of the best entry-level jobs in the medical field. For the little time it takes to complete training and the low cost of tuition, it's unlike most other medical positions that can take years of schooling and a lot of money.
Whether you've ever considered a career in healthcare or you want a stable job with new responsibilities, training to become a phlebotomist is worth it. We hope this guide has given you a clear picture of what you can expect from a typical training program. Knowing the basics can give you a better idea of whether it's the right career choice for you.
[/su_list]