Good phlebotomists are in more need than ever. This is in part due to advancements in technology. The entire healthcare industry continues to grow at a rapid rate. Because it is an entry-level job, many people get into phlebotomy as either a permanent career choice or as a stepping stone toward other medical professions.
Because there is such a great need for phlebotomists, there are many different schools and training programs across the country. If you're interested in a career in phlebotomy, choosing the right training course is important.
Though most training courses throughout the United States offer similar resources, there are, of course, a few differences between each one. It's necessary to know what to look for in choosing the right courses. The more resources and knowledge you can obtain during training, the better prepared you'll be.
In this article, we'll cover the top phlebotomy schools in the United States. We'll also go over what you should look for in a quality training program, and what you can expect. When you know what to look for, you can make a better decision about the training program you choose. This will enable you to enter a secure career for the future.
[su_list icon="icon: check-circle"]
What to Expect from Phlebotomy School
Again, there will always be slight differences from program to program. But, all phlebotomy training schools have to cover certain subjects to fulfill the requirements for graduation, and sometimes certification.
You can expect to cover the following topics in any phlebotomy training program:
Anatomy
Lab Safety and procedures
Hands-on experiences
Labeling specimens
Most phlebotomy training courses are split up into two parts. You'll first experience a classroom setting. This is where you'll learn the basics of phlebotomy, the anatomy of the human body, and lab procedures. This will help to prepare you for a rewarding career in blood work.
The second half of a phlebotomy training program typically focuses on a more hands-on approach. Students are required to complete a certain number of successful venipunctures to complete their training. Sometimes, these venipunctures will be performed on fellow students, or volunteers.
Once training is completed, students will have the option of continuing with schooling to become certified. While certification is not required in all states yet, it is required in most. Becoming a certified phlebotomy technician can also make it easier to find a job once your training is complete.
When choosing a quality training program, the best thing you can do is make sure it's accredited. Often, if a school or program isn't accredited, it won't be considered legitimate by the National Phlebotomy Association. Graduating from an unaccredited program can make it difficult to find a job, even if you become certified at that program, as well.
There are several warning signs to keep in mind when you're looking for a good phlebotomy school. These signs should serve as triggers to stay away. If something sounds too good to be true, it's likely that it is. Avoid getting involved in training programs that:
Are unaccredited
Offer extremely low tuition rates (in comparison to other programs)
Offer full graduation/certification in just a couple weeks
Unfortunately, with the continued growth in popularity, these training courses have started to show up more frequently. Many of them are online programs, and can easily be considered scams.
While there are plenty of online training programs that are legitimate, you have to know what to look for to ensure that legitimacy. Whether you choose an online course or a training program in person, be sure to check what others have to say about it.
The schools and programs listed in this article all offer legitimate and accredited phlebotomy training. Some of these programs offer both basic phlebotomy courses, as well as certification courses. If none of the training programs listed here are near you, make sure you know what to look for in a school, and what to avoid.
How Much Does Training Cost?
The cost of phlebotomy training varies depending on the facility you choose to attend. Some online classes from accredited colleges are offered for free. While they may not give you everything you need to become a certified phlebotomist, they are a great place to start.
Full online programs are typically several hundred dollars, where technical schools or specific phlebotomy training programs in person can reach up to $1,000.
If you attend a two or four-year college to receive a degree with your certification, you'll have to pay the tuition required by that school. Keep in mind that there are funding options available if you do attend a college or university, including loans and scholarships.
[/su_list]
What Are the Best Phlebotomy Schools in the USA?
University of Alaska
Located in Fairbanks, the University of Alaska offers a one-year training program for those going into the phlebotomy field. There are two parts to this year-long training course. The first half includes learning lab procedures, the anatomy of the human body, and proper collection and handling of blood specimens.
Once students have become familiar with the work in a classroom setting, they will have to submit 100 hours of hands-on work in a medical facility, under direct supervision. During this time, students perfect their venipuncture skills and become truly immersed in the world of phlebotomy. This type of practice can make the transition from the classroom to a full-time job much easier.
Baker College
Baker College of Auburn Hills is the largest independent college in the state of Michigan. Not only do they offer basic phlebotomy training, but they also have a certification program. Students learn the skills of venipuncture in the campus' lab setting. They then can practice those skills in a medical setting under the supervision of healthcare professionals.
Baker's Phlebotomy Technician program includes courses like Intro to Phlebotomy, Intro to Disease, and Medical Terminology. To complete the program, students not only have to complete the phlebotomy-specific courses but several general education requirements.
Madison Area Technical College
Phlebotomy training at this Wisconsin-based school consists of two courses that are each two credits.
These courses are as follows:
[su_list icon="icon: check-circle"]
Intro to Phlebotomy
Phlebotomy Techniques
[/su_list]
Both courses are to be completed in the same semester. However, students are expected to spend a minimum of six hours out of the classroom each week completing assignments and going over study coursework.
The training courses for phlebotomy also require students to take part in a clinical rotation during daytime hours. Students must sign up for and find transportation to these clinical sessions on their own, which can be a great learning tool for later finding a job in the phlebotomy field.
Goodwin College
Goodwin College is located in East Hartford, Connecticut. They offer a variety of different healthcare and phlebotomy courses, from CPR to Advanced Phlebotomy Skills. Students must complete the Principles and Practices of Phlebotomy, and Advanced Phlebotomy Skills before requesting a phlebotomy internship. These internships provide hands-on experience, as students can work directly in the medical field under direct supervision.
Though the internships offered at Goodwin require pre-requisite courses, they are required to complete phlebotomy training from the school's program. General education requirements must also be met.
Ferris State University
Ferris State University, in Michigan, is well known for their pharmaceutical program. However, their phlebotomy program is also one of the best in the country. They are the only accredited phlebotomy school in Big Rapids, MI. Five courses are required to complete Ferris State's phlebotomy training program, including Orientation to Medical Vocabulary, and Introduction to Specimen Collection.
Ferris does find internships for their phlebotomy students when they become eligible, in various clinical sites throughout the local area.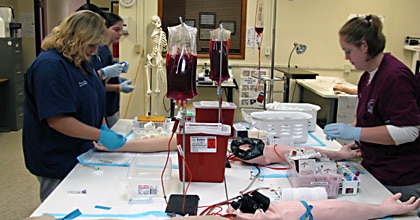 Columbia Basin College
Columbia Basin College is located in Pasco, Washington. Their phlebotomy program spans the length of two quarters. In the first quarter, students will take Phlebotomy 100, and learn the required lab skills necessary to become a phlebotomist. The second quarter will consist of Phlebotomy 1001. This is a clinical practicum in which students will be assigned to apply their newly-learned skills in a designated medical facility.
Students must receive a 75% or higher grade to pass both quarters. Some of the basic functions learned at Columbia Basin's phlebotomy program include:
[su_list icon="icon: check-circle"]
Drawing blood on patients of different demographics
Processing specimens
Conducting interviews and taking vital signs for blood bank donors
[/su_list]
Dixie State College of Utah
The phlebotomy program at Dixie State is completed in just one semester. Throughout this semester, students will learn proper lab procedures, how to handle specimens and the overall anatomy of the human body. They will also be required to take on an internship for hands-on experience.
Though one semester may not seem like a lot of time to get phlebotomy training, Dixie State makes sure that everything a phlebotomy student needs to know is covered in that period of it. It's an intensive and immersive push into the medical field, but can be perfect for anyone looking to complete their training quickly, from an accredited institution.
Bellevue College
Located in Bellevue, Washington, Bellevue College offers a phlebotomy program that can be completed in four quarters. The curriculum consists of 40 credit hours, covering classes like Human Systems, Wellness for Healthcare, and Advanced Phlebotomy.
Bellevue also offers an externship to its advanced students, who have completed all the prerequisites. This externship consists of a clinical practicum at a designated local medical facility, under supervision.
National Career Education
At National Career Education, in Citrus Heights, California, you can become a certified phlebotomy technician. Their programs also cover lab assistants and EKG technicians. Students are required to learn various lab techniques and safety procedures. They are focused on offering students a focused training program that offers hands-on opportunities and real support when needed most.
Ultimate Medical Academy
Phlebotomy technician training at the Ultimate Medical Academy not only provides real-world experience but helps to prepare you for phlebotomy certification. With locations in Clearwater and Tampa, Florida, students receive 80 hours of hands-on experience under the supervision of a medical professional.
While all externships at the Ultimate Medical Academy are unpaid, many times students will find employment with the medical facility where they've trained. It's a great way to secure a job after graduation.
What are the Best Online Courses for Phlebotomists?
If you don't live near any of the training facilities listed above, you can search for accredited programs near you. Alternatively, you can look into online training programs. They are a great alternative to having to go to a physical location if it's too far.
As stated above, it's important to be careful when searching for online phlebotomy courses. While there are plenty of legitimate programs available, some of them offer deals that are simply too good to be true.
One of the best ways to make sure you're getting quality phlebotomy training online is to go through an accredited institution or college. Some facilities even offer free courses for online phlebotomy training.
A few accredited schools that offer online phlebotomy training courses are:
[su_list icon="icon: check-circle"]
Baker College
Kaplan University
Grand Canyon University
[/su_list]
Benefits of Phlebotomy Training Online
One of the biggest reasons people look for phlebotomy training programs online is to save time and money. A phlebotomist is an entry-level position. Many people who want to get into the healthcare industry as a phlebotomist already have existing jobs. So, being able to take classes online at your own pace can be beneficial to different schedules. If you tend to work better at a slower pace, online courses also allow you to take your time covering the material.
Some people choose online training programs out of convenience. Again, if you don't live anywhere near an accredited phlebotomy school, it wouldn't make much sense to go out of your way to find a physical location.
Keep in mind that to complete phlebotomy training, you must have some hands-on experience, and successfully complete a certain number of venipunctures. If you start taking online courses, and they don't include a facility where you can get real-world experience, you may want to look elsewhere. Medical facilities of any kind won't be able to hire you as a phlebotomist if you don't have any experience dealing with patients on a regular basis.
If you do want to go to a physical location for phlebotomy training, a good place to start is at your local hospital or medical facility. Some healthcare centers even offer on-the-job training and may help to train you and hire you once the program is complete.
Certification & Continuing Education
One of the best things about becoming a phlebotomy technician is that it doesn't take years of advanced training. You don't have to have any prior medical knowledge or skills to take courses, and upon completion, you can enter into a job that leads to a very fulfilling career.
As stated above, most states do require phlebotomy certification. Even states that currently don't require it certainly give preference to those who have taken the extra time to become certified. Many of the schools listed here offer certification or can be great resources for certification training.
Additionally, getting a degree along with your phlebotomy courses can help to advance your career. For example, if you attend college and take phlebotomy courses, you can earn an Associate or Bachelor's Degree. These degrees can help you move from a phlebotomy technician to a more advanced position, like a supervisor.
How to Continue Phlebotomy Training
Because phlebotomists play such a crucial role in the healthcare system, continued education is extremely important. If you want to remain in the phlebotomy field, taking a few months of classes won't be enough.
It's necessary to remain as up to date as possible with the latest procedures in safety and technology, to provide the best care possible to your patients. So, what can you expect from continued education?
For starters, the National Phlebotomy Association does require that certification is renewed each year. Preparing for certification takes more coursework, and you have to pass another exam. It's likely that wherever you took your phlebotomy courses, to begin with, will have the training necessary to complete a certification renewal.
Certain courses are requirements for phlebotomists who need refresher courses. However, there are also plenty of opportunities to seek continued education on your own. While phlebotomy is an entry-level job, there are plenty of opportunities for growth and advancement. Taking selective courses, such as Advanced Phlebotomy, can help to improve your career and position.
Additionally, many people use this entry-level career as a stepping stone toward other jobs in medicine. Phlebotomy is a great springboard for getting your feet wet in the world of healthcare. You can be a full-time phlebotomist, and continue to take additional medical courses for another job. Many nurses and even some doctors start out this way. It could help you to get one of the best-paid jobs in the medical profession.
Finding a Job After Phlebotomy School
The main goal of attending any phlebotomy training program is to find a job and build a successful career. There are so many opportunities for certified phlebotomists who have gone to an accredited institution to receive their training. The good news? It's a job that is currently in high demand, due to factors like advancements in technology and an aging population.
If you're not sure where to apply for a job after phlebotomy training, the best place to start is at local area hospitals and clinics. The busier these facilities are, the more likely they are to be looking for a qualified phlebotomist. Keep in mind that some jobs may start out part-time. Even private practices can sometimes hire phlebotomists.
If you're having trouble finding a job at a medical facility, you may need to think outside the box. There are plenty of places that are looking for phlebotomists at any given time.
Some of the most common include:
[su_list icon="icon: check-circle"]
Nursing homes and assisted living centers
Prisons
[/su_list]
Sometimes, phlebotomists will choose to be their own boss. While this can have risks, it can also be incredibly rewarding. Many times, the places listed above will call on self-employed phlebotomists to come work for a few hours, a day, etc. Clinics and private practices who don't need an on-staff phlebotomist often practice this method, as well. If you can establish enough business for yourself, it's a great way to work your own hours.
Should I Consider a Career in the Medical Profession?
If you've ever thought about going into the healthcare industry, phlebotomy is a great place to start. It's a booming entry-level position that allows you to work with a variety of different patients every day.
Additionally, as a phlebotomist, you quickly learn other parts of what makes a medical team work together. You have to be familiar with lab procedures and know how to work as a team member. You may start out in an entry-level position, but there are many opportunities to grow and advance. It's a great way to determine if you love working in the medical field.
Becoming a highly-trained phlebotomist starts with the right type of schooling. Phlebotomy training is relatively inexpensive and doesn't take much time to complete. Compared to other careers in medicine, it's one of the fastest training programs.
If healthcare has always appealed to you, and you're looking for a solid job, phlebotomy could be a perfect choice. If you're anywhere near the schools listed in this article, you can be sure you'll receive a quality education to become a certified phlebotomist.