The way you dress for a job interview can tell a potential employer a lot about you. Men's interview attire should be professional and suitable for the job. Businesses all have different dress codes, but the interview dress code should be consistent. If you're unsure about what you should wear to your job interview, there are specific rules and dress etiquette you can follow to look your best.
You may not think about what to wear when you're going into an interview. But, it's imperative. It sets the initial tone for you and your interviewer and will be their first impression of you. So, looking your best should always be your goal.
If you've never had to worry about picking out an interview outfit before, now is the time to start thinking about it. That way, the next job interviews you have coming up can start out on the right foot. There is no denying there's a lot to think about when it comes to picking out the right outfit.
But, dressing for success doesn't have to be such a daunting task. Once you know what colors work best for men, and a few general tips on how to look your best, you can put something together you're proud of. Men have quite a few options to choose from, so you can look professional and still show off your style and personality.
[su_list icon="icon: check-circle"]
What Should a Man Wear to a Job Interview?
This guide will cover several tips for what a man should wear to an interview. The first thing you should remember to do is find out as much as possible about the company. Some traditional companies may expect a more formal or semi-formal, classic look. Newer companies or tech companies tend to prefer people who go with a business-casual wardrobe.
Understanding the company you're interviewing with ahead of time can give you a better idea of what you should wear. Still not sure? Talk with the HR department for the company or someone who works there!
Once you have a better idea of the styles you should choose, you can start to figure out what options work best for you. The tips listed here can help you narrow down those options and make the best choices.
Start with the Basics
The nice thing about men's business wear is that you don't need to buy an entirely new wardrobe to build a few great outfits. You can start with a few essential pieces and mix and match them in different ways.
Men's fashion usually isn't loud or complicated. A few classic pieces are all you need to put together something tasteful that will work in various situations. What should you include?
Try starting with the following:
One or two pairs of slacks (tailored)
A suit jacket
A few button-up shirts
A pair of black and brown dress shoes
A few neckties
Choose the Right Colors and Layering
You can get away with only using a few basic pieces easily when you work with colors and layers. Experimenting with different layering patterns can create a lot of new outfits for you from the same few pieces.
The colors you choose for an interview should once again be decided based on the atmosphere of the company. If you want a more classic look, darker colors are always in favor. A black, gray, or navy suit never go out of style and in the business world, they still are relevant. The best color suit will usually be one of these choices.
It may sound silly, but the color you wear can say a lot about you subconsciously to your interviewer. Darker colors can give off the idea that you're ready to take control, and that you're confident. In the business world, these are usually desirable traits.
If you're unsure of what the dress code is for your interview, choose something that will work either way. For example, a light-colored blazer with a light dress shirt underneath. Lighter colors are less threatening and harsh. They can show that you're ready to work with others and that you're excited about the opportunity you're being given. Yes, the colors you wear can suggest all that!
Layering can also be your friend no matter what the atmosphere of your interview is. A great outfit option is a button-up shirt and tie underneath a sweater and a blazer. It might seem like a lot, but it's the best of both worlds for dress code expectations.
Layering also provides a more modern touch. Wearing a dress shirt with a tie and blazer is traditional. By adding another piece to that (the sweater) and mixing colors and patterns, you're adding a modern spin on a classic look. Not only can it make you feel more comfortable, but it shows that you're ready for a job in a new business or growing industry.
How to Find the Right Suit
If the job you want is in a more professional or traditional setting, you may want to buy a suit or two. But, not all suits are created equal. If you've never purchased a business suit before, there are a few things to keep in mind to find the best one for your sense of style and your body type:
Choose suits that can be worn with different colored button-down shirts, like charcoal gray, black, and navy.
Choose fabric that will work through any season, like wool, or a wool-silk blend.
The style of suits has become slimmer in recent years. It doesn't mean your suit has to be tighter. But, you may look unprofessional if you go to your interview in a baggy, bulky suit. Make sure you get yours professionally tailored for the perfect fit. This is especially important for the shoulders, which can make you look sloppy if they aren't correctly tailored.
Be prepared to invest. A quality suit usually isn't cheap. But, for anywhere from $750-$1200, you should be able to find something that works well for you and will stand the test of time.
Add Texture
Adding a textured piece to your outfit can help you stand out and provide a modern-yet-professional look. For example, instead of a traditional blazer, try a tweed blazer. You can even find tweed or woven ties that can help you mix up the look of whatever you're wearing.
Try different types of materials to change the look of a few basic pieces completely. This technique is becoming increasingly popular in the world of men's fashion. So, you shouldn't have a problem finding some pieces made of materials like tweed or corduroy.
Layer a Sweater and Button-Down Shirt
Another business casual option that is often overlooked is to wear a sweater over a button-down shirt. Paired with a complementing pair of slacks, this look can work either in a professional or semi-casual work environment.
The most important thing for this look is to choose combinations that work. The easiest way to do that is to select sweater colors that are more neutral. Colors like brown, navy, and black are good choices because they go with many different colors. If you choose neutral sweater colors, you can have a little fun with the button-down shirt colors. Try mixing it up with pink, green, or light blue. Of course, traditional white is always in style, too.
Go Bold with Your Colors
If you want to forego the suit jacket and tie, you can pull it off by choosing a bold button-down shirt. Bold colors can be risky for more traditional environments, but they can make a statement.
The most important thing to remember when you're choosing a shirt, no matter where you're interviewing, is that it should still look professional. Selecting colors and patterns that aren't traditional is okay. It's a great look, especially for newer businesses. But, what you wear should still be tactful and not distract from the interview itself.
What Color Tie Should I Wear?
The necktie is a standard accessory for men's interview attire. Nowadays, ties come with dozens of different options. You have more than just a few solid colors to choose from. Instead, you can pick from different patterns, lengths, widths, and textures. So, what's the best kind of tie for your first interview?
You should start out with something more traditional if you're wearing a suit or a solid-colored button-down shirt. Ties with subdued colors and patterns will usually be more well-received than anything too crazy. Navy, black, and gray are typically the safest colors for a traditional place of business. You can choose these colors for solid ties or ties with subdued patterns for an always-professional look.
This idea changes if you're wearing the tie underneath a sweater. In these cases, you'll only be able to see a small part of the tie peeking out from underneath the sweater itself. So, you can show off a bit of your personality with a fun pattern that coordinates with the colors you're wearing.
If you're going for a more modern look, try investing in a tie with a different texture, or even a 'skinny' tie. Some neckties are even squared off at the bottom now, offering a unique look to this traditional accessory.
What are the Best Shoes and Accessories?
Men don't have to worry about wearing a lot of accessories for a job interview. In fact, flashy jewelry can be a distraction, and something like a pocket square can come across as too formal. One of the best accessories you can invest in is a simple watch. A watch should have a black or brown band or could feature a chain link band. But, it shouldn't be too flashy or too big. You should also avoid wearing a watch that is notably expensive. Walking into an interview wearing a Rolex can give your interviewer the wrong impression and make you look too cocky.
You might not think that a man would have to worry about what shoes to wear, but your shoes are just as important as the rest of your outfit. Black lace-up shoes are great for suits or a more traditional environment. They go with many different colors and never go out of style.
If you're going for a business-casual look, try brown lace-up shoes or loafers. Your shoes should never be scuffed or dirty, and always avoid wearing street shoes or sneakers.
Many times, when you're in a seat position, your socks will also be visible. There is a current trend for men that has made it acceptable to wear multi-patterned socks or even novelty socks. This might be okay in specific work environments. But, you should avoid wearing socks that stand out during your interview process. Solid colors or simple patterns are the best way to go. Just like jewelry, socks that are too colorful can be distracting and may cause the interviewer to believe you aren't serious. Your socks should be able to cover your ankles when you cross your legs.
Practice Proper Grooming
Even if you wear all the right pieces and your clothes look sharp, you can still present yourself in a negative light if you don't groom yourself properly. It's not as easy as getting out of the shower and rushing out the door. Men need to practice proper grooming, too. Just a little extra time to take care of yourself can make a big difference in how you look and feel when you go into your interview.
Simple grooming habits to keep in mind include:
Freshly washed and combed hair
Clean, trimmed fingernails
Neat and clean clothes with no stains
Clean teeth/fresh breath
As you can see, most of these grooming tips focus on basic hygiene. But, you can use these tips to make sure you're at your best before you head to your interview. It can be a stressful experience, so it can be easy to forget something so simple.
[/su_list]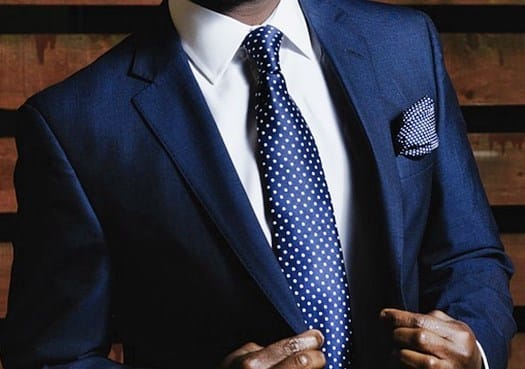 What NOT to Wear to an Interview
Now that you know the best way to dress for your job interview, you should also be aware of what to avoid. Some things are more obvious than others. But, if you haven't gone to many job interviews in your life, you may be wondering what is acceptable and what isn't. Let's look at a few major 'don'ts' when it comes to your interview attire.
A t-shirt under a blazer: Just because you're wearing a suit jacket or blazer doesn't mean you should wear something unprofessional underneath. Wearing a t-shirt or casual shirt underneath a suit jacket will not only look strange, but it suggests you just threw your outfit together. Invest in a button-up shirt that you can iron and tuck in underneath your blazer.
Go easy on cologne: Smelling nice for your interview is a great touch. But, limit the cologne to one or two sprays. It can be easy to overdo it on colognes, especially when you're nervous. Unfortunately, too much of a good thing can become distracting and may even offend your interviewer because of the strong smell.
Stay on trend: Maybe the last time you had a job interview was ten years ago. If that's the case, your trusty old suit in the back of the closet may not be your best option anymore. Styles change, and you need to adapt to them to look your best. Looking outdated isn't an appealing quality to show off to your interviewer.
Ditch electronics: We depend on cell phones and technology nowadays, but they can become a part of our wardrobe. When it comes to a job interview, though, you should keep any, and all electronics are hidden. Don't walk into your interview with headphones in your ears. Keep your cell phone on silent in your pocket, so it isn't visible.
Dressing Your Best for a Job Interview
When it comes to men's dress code for a job interview, it doesn't have to be complicated. Most of the time, a few simple pieces can go a long way. You can mix and match them to create different outfits, so you don't have to break the bank to look professional.
The most important thing is that you try to look your best in whatever you decide to wear. You should also dress for the job you want to get, so look into the company policies on dress code before going to your interview. The more you look like you already fit into the environment of the company, the easier it may be for your interviewer to see you filling a position.
We hope this guide has given you some ideas about what you should wear for an interview. Choosing the right ensemble can help you make the right first impression and avoid first interview mistakes. So, putting some thought into it is crucial. If you dress the part, you'll be that much closer to landing the job you want.
[/su_list]