If you've ever considered starting a career in medicine, it's the right time to take the idea seriously. The healthcare industry is projected to experience continued growth over the next ten years. With such growth, new job opportunities have opened up. But, if you're not academically strong in areas like math or chemistry, it's easy to conclude that a healthcare career might be out of your reach.
That's not true. Due to advancements in technology and the variety of positions needed to make the healthcare system work efficiently, there are many openings where chemistry and math skills aren't a specific requirement.
Associating mathematics and chemistry with medicine is an understandable conclusion. And, yes, many medical careers put math at the heart of just everything. But, if you're not very good at math, it doesn't mean that the medical profession is out of your reach. In fact, there are some hospital jobs don't require a medical degree of any kind. You could, for example, have a qualification in IT or business.
This guide will focus on different healthcare careers that are expected to see continued growth. We'll explain what you can expect from each of these jobs, and the type of schooling that's required. And none of them specifically require math or chemistry!
[su_list icon="icon: check-circle"]
What Are the Benefits of Working in Healthcare?
Before we explore the jobs of this thriving industry, it's vital to know the advantages of working in healthcare. Aside from the consistent growth, it should be relatively easy to find a job that fits your needs.
The potential for a high salary: Not only is the medical field growing in size, but it's an industry where individual jobs are increasing in demand. Additional skills and training will increase your salary over time. But, those training skills don't necessarily have to do with mathematics and chemistry. Some high-paying jobs in medicine require little schooling at all. They're open to anyone who is intelligent and hardworking.
Competitive benefits and perks: Even if your salary is in the median range, the employee benefits will often make up for it. The industry offers competitive pay because of the caliber of personnel that is needed by employers. So, no matter where you might look for a job, you can expect the benefits package to reflect that competitive nature.
Makes a difference in people's lives: This might seem obvious, but one of the primary reasons for entering medicine is to care for other people. You'll be making a difference on a daily basis, regardless of your function. If you enjoy helping others, don't let schooling or math and chemistry stop you from entering this rewarding career.
Medical Jobs that Don't Require Math or Chemistry
Let's take a look at some of your career options in the medical field:
1] Medical Transcriptionist
Medical transcriptionists work with physicians and other healthcare workers to convert oral reports into written ones. They can also edit medical documents. While they won't work directly with patients directly, it's crucial for a transcriptionist to have a comprehensive understanding of medical terminology. They should be able to pick up the medical language that is being used in their report.
The written reports are used to prepare patient histories, discharge summaries, and more. In many cases, medical transcription offers a lot of flexibility. Most transcriptionists work directly in hospitals or clinics. However, because of the popularity of the job, it's becoming a more common freelance position that allows you to work from home.
Post-Secondary education isn't required. However, you may be more likely to get hired if you do. You'll need to understand medical terminology, as well as subjects like anatomy and physiology. Aside from the medical requirements, a documentation specialist should also have strong grammar and English language skills. The ability to use a word processing program well would also be a tremendous asset.
As of 2016, the average yearly pay for a medical transcriptionist was $35,720. If you're quick to pick up on different medical terminology and have a solid grasp of grammar and good typing skills, it's an excellent way to be an involved in a career that offers exceptional flexibility.
[/su_list]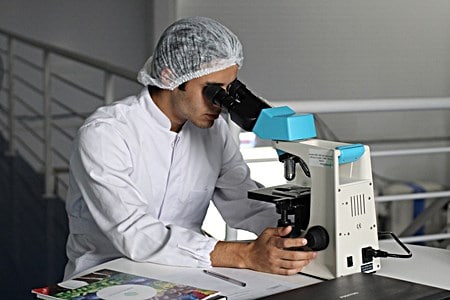 2] Therapists & Counselors
There is little math present involved in counseling positions. Therapists and counselors are essential for physical and mental health support. With such a wide variety of counseling positions, it's essential to determine which one might interest you the most. Without therapists in different specializations, the world of medicine could be far more chaotic.
Consider some of these therapy and counseling job options:
Substance abuse counselor: They work with people at all stages of addiction recovery. From drinking to drug use, no addiction is too great to see a specialist. They help their patients learn coping mechanisms to escape addiction and teach them healthier behaviors. A bachelor's degree and certification exam are required to become a substance abuse counselor. Some states may even need you to have a master's degree, so be sure to check your local requirements. The average salary is close to $40,000 per year.
Behavioral disorders counselor: They help patients to discover behavioral patterns that can be detrimental to their health or well-being. Then, they offer solutions on how to break those habits and replace them with healthier ones. It requires patience and compassion, but it can be a rewarding job for someone who likes to see positive changes. A bachelor's degree is expected to become a behavioral therapist, and in many cases, it may require a master's degree. You must become fully licensed before working in a hospital or private practice. According to the U.S. Bureau of Labor Statistics, the average salary is about $40,000 each year.
Rehabilitation counselor: They work with people who have experienced a disability (physical or mental). It's their job to prepare them for independent living. They can work with anyone from the mentally ill, to war veterans, or even those who have experienced a severe illness that has taken them away from the 'real world' for an extended period of time. A master's degree is required for this position, as is genuine compassion. The median average salary for a rehabilitation counselor is about $32,000 a year.
3] Medical Sonographer
A diagnostic medical sonographer is someone who relies on advanced equipment to emit sound waves into the bodies of patients. These sound waves then create images of the patient's tissues. Sonography is commonly used on the abdomen, breasts, and heart. The sonographer will pass on their findings to the patient's physician for a final medical diagnosis.
The educational requirements include an associate's or bachelor's degree, as well as certification. No additional experience is needed outside of basic educational training that we've specified. But, it is crucial for a sonographer to have technical skills, good hand-eye coordination, and a willingness to work directly with patients and medical professionals alike.
If you're savvy with technology and can learn how to operate specialized equipment reasonably easily, this is a great job that puts you in direct contact with patients, with almost no math or chemistry work involved.
The average yearly salary for a diagnostic medical sonographer is almost $70,000.
4] Dental Assistant
If working in dentistry interests you, becoming a dental assistant is an excellent way to spend time with people, without having to crunch any numbers. Dental assistants do everything from prepping patients for dental treatment to processing X-rays.
They'll work directly with dentists to make sure a patient is comfortable throughout whatever dental procedure they may be undergoing. Many of their additional responsibilities will be based on the dentist they work for, and the specific tasks they are given.
To become a dental assistant, the American Dental Association requires you to complete formal training at a community college, university or specialized training program. It can take less than a year to become a dental assistant with accelerated programs.
Dental hygienists also don't do any math. The main difference between these two positions is the amount of time spent directly with a patient. Dental hygienists will spend more one-on-one time with a patient with less supervision. Both are viable options if you're interested in working in the dental industry, but your math and advanced numerical skills are a bit lacking.
Dental assistants make an average of $35,000 per year.
5] Radiologic Technologists
Have you ever had an MRI? If so, you've worked with a radiologic technologist. It is their job to perform MRIs and X-rays using specialized equipment. They work directly with patients to obtain the right images and scans needed by physicians to diagnose a medical condition or illness accurately.
Entry only requires an associate's degree along with state licensing. Each state's requirements may be slightly different, so if this type of work interests you, it's a good idea to look into what your state requires for licensing now. During your studies, you'll work with imaging equipment and become educated in vital medical subjects such as anatomy and patient care.
With technology that continues to advance and become more sophisticated, this job is ideal for someone who prefers working with specialized machinery. If you have a willingness to learn about new technology and equipment, this can be an exciting job that allows you to discover patient ailments at an early stage. In turn, this can get patients a faster diagnosis, letting them get life-saving treatment sooner.
As of 2014, the average salary for a radiologic technologist was $57,370. In 2014, the job outlook was expected to grow by at least 9% over the next ten years.
6] Medical Lab Technician
A medical lab technician performs various lab tests to determine health conditions and illnesses. They can then provide their findings to physicians so that they can make a diagnosis. While it may sound like a job that requires a knowledge of chemistry, it is mostly science-based. Lab techs work primarily with blood specimens and other bodily fluids.
It does require a bachelor's degree to become a medical lab tech. Throughout your studies, you can expect to focus on everything from clinical lab training to biology. It's an innovative career that puts you at the heart of medicine. Through their work, medical lab technicians can identify health conditions through blood or other fluids much faster than other tests.
This career is among the most popular in the healthcare industry, with a 16% job growth rate expected between 2014 and 2024. The average yearly salary for a medical lab technician is over $49,000.
7] Medical Assistant
The primary duties of a medical assistant are administrative, so there is little math and no chemistry involved. Medical assistants, much like dental assistants, take care of everything from preparing patients (this includes taking blood pressure and basic interviewing) to cleaning a patient's room once their examination has been concluded. More may be required, but that depends on your doctor.
There is little post-secondary education required to become a medical assistant. In fact, in most cases, it only requires a high school diploma. On-the-job training is typical for this work, especially if you find yourself in a smaller practice where you'll be expected to perform specific tasks each day. However, some states do require medical assistants to complete a training program. Check your state's requirements before you begin applying for jobs.
Aside from the education required, medical assistants should have strong interpersonal skills and attention to detail. If you are looking for a medical position that allows you to work directly with patients and physicians, this is the perfect opportunity.
The average yearly salary for a full-time medical assistant is about $30,000.
8] Medical Secretary
If clerical skills are more your thing, but you still want a career in healthcare, a medical secretary position could be ideal for you. Medical secretaries typically work in the front office or entrance area of a private practice, clinic, or hospital.
They are responsible for scheduling patient visits and surgical procedures, answering phones, and keeping track of patient records. This position works as a communicator between patients and doctors and is often the first face a patient will see when they walk through the door.
You'll need to possess attention to detail and be well-organized. You must also be able to pick up the relevant medical terminology. While medical secretaries do work with insurance companies and billing, there is little math involved – most of the billing process is connected to understanding specific codes and being able to organize data properly.
The requirements for a medical secretary include an associate's degree or certification from an accredited school. If you take a certification course, they can typically be completed in less than a year, making this one of the quickest ways to enter the medical field.
The average yearly salary for a medical secretary is about $33,000.
9] Certified Phlebotomist
Phlebotomy has become one of the best entry-level careers in healthcare. Not only does it require no math, but it also requires little training. In fact, most phlebotomy programs can be completed in less than a year. Many phlebotomist trainees can become fully certified (a requirement for four states currently), and can still conclude their training in just 4-6 months.
Schooling for a phlebotomist consists of two parts: a classroom setting and hands-on practical experience. In the classroom, you'll learn about anatomy and physiology, as well as patient care, lab procedures, and safety. Each accredited training program requires their students to perform many venipunctures (blood draws) before they can graduate.
As a phlebotomist, it is your responsibility to draw blood from patients and transport the organized vials to a medical lab for testing. Phlebotomists work directly with patients and different medical staff on a daily basis. Jobs for qualified phlebotomists can be found in hospitals, clinics, private practices, and organizations like the American Red Cross.
Phlebotomy is all about handling blood regularly, so it's not for the squeamish and people who faint at the first sign of blood. But, you may be looking for a rewarding career in blood work.
On average, phlebotomists make about $28,000 per year.
10] Medical Social Worker
There are traumatic experiences in medicine. Things don't always go according to plan, which is where medical social workers step in. They work directly with patients and families, to help them discover coping mechanisms for grief and other traumatic experiences.
They can counsel on everything from death, to a tragic accident or news of a fatal illness. This work requires an empathetic and compassionate person, as you're regularly dealing with families and patients who are going through something incredibly difficult.
Becoming a medical social worker requires a master's degree in social work from a well-recognized institution. On average, the salary ranges anywhere from $26,000-70,000 each year. This is dependent on where you work and the amount of post-secondary education you have from an accredited institution.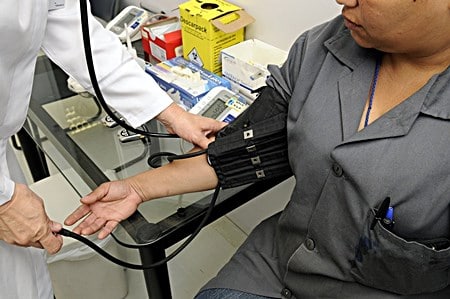 11] Healthcare Recruiter
Not everyone wants to be a physician or nurse, or even work directly with patients. That doesn't mean you can't still be a vital cog in the healthcare system. Recruiters fill positions with qualified individuals, building the best medical teams possible for hospitals and clinics.
Healthcare recruiters are called human resource specialists. If you have a knack for placing people in the right jobs, this is a great way to advance the healthcare industry. Healthcare recruiters do everything from posting job ads to disciplinaries due to various transgressions.
A bachelor's degree in human resources or similar is preferred for this position. A willingness to work with a wide variety of people is crucial, as is organizational and communication skills. You should be able to work independently, but also know how to work as part of a productive team.
The average yearly salary for a healthcare recruiter is about $45,500.
How to Choose the Right Healthcare Career for the Future
As you can see, there are many careers in medicine that don't require math or chemistry. The variety listed here offers everything from hands-on patient work, to freelance opportunities, and even clerical work that will never need you to deal directly with hands-on medical procedures. There is something for everyone in the healthcare industry.
Because this industry is projected to continue growing for the next ten years, it's easier than ever to find a job that's right for you. The salaries for most of these jobs (even though many of them are entry-level positions) are relatively good for the amount of training that's required.
Whether you're looking for your first job, you're ready to make a career change, or you want to try something different later in life, there is likely a job that's a perfect fit for you. You can even train for careers in less than 12 months. Even if specific subjects like math or chemistry aren't your strong suit, don't be discouraged. A career in medicine may fit your needs better than you expected.