Phlebotomy has skyrocketed in career popularity due to a HUGE increase in demand for skilled personnel. There's an abundance of jobs that an intelligent person with the right skill set and attitude can fill after receiving professional training.
There are two types of people who typically want to get into phlebotomy:
People who are interested in medicine and want to help others.
Those looking for an entry-level job with superb benefits.
We all want a more secure future and a career that allows us to 'make a difference' to the lives of others. But this career path offers much more than other jobs that you may have explored. Let's take a closer look at the benefits:
6 Good Reasons for becoming a Phlebotomist
Phlebotomy offers a faster way to gain medical experience. You'll deal with new patients every day. Many nurses, lab technicians, and doctors started out in this field because it offers a way to get your foot in the door.
Entrants are may be able to choose their own schedule or work part-time. It's a good career for someone who wants to spend time at home with family, or who is currently still in school for continuing education.
You'll work in a fast-paced medical environment, meeting patients and helping to resolve some interesting medical issues.
If you want to advance, it's a great career opportunity. It can lead to a rewarding career that lasts a lifetime, with room for growth.
You can immerse yourself in additional education to advance your medical knowledge. Studying is interesting and intellectually stimulating.
The decision to become a certified phlebotomist doesn't take that long compared to other schooling options. You can study online, too.
What is a Phlebotomist?
A phlebotomist is a professional who draws blood from a patient using a safe medical procedure. The practice is known as 'venipuncture.' The blood sample will then be sent to a laboratory for medical testing.
Find out more about the work of a phlebotomist by watching the video below:
Purpose of Phlebotomy
[su_list icon="icon: check-circle"]
The drawing of blood is used to determine the health of a patient.
If blood work is needed to determine a specific illness, it enables the physician to provide the right kind of treatment program.
People with hepatitis B or hepatitis C may need to have blood drawn.
Patients with pulmonary edema may need to decrease their volume of blood.
Voluntary donations for blood drives, emergency situations, etc.
Education & Training to become a Phlebotomist
To enter a phlebotomy training program, you need a high school degree or equivalent. There is no post-secondary education requirement.
You must be a minimum of 18 years of age.
There are plenty of local courses available for new entrants. But, even if you can't find a nearby training center, there are online programs. There are also free online courses, but they need to be supplemented with some practical training.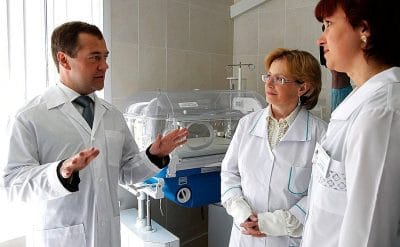 How to Choose the Right Program
Make sure that it's an accredited school. The job market is competitive, and unaccredited programs aren't accepted by employers.
Exaggerated claims. If a program promises to teach you everything you need to know about phlebotomy in days, you should avoid it.
Nearby physical location. You'll need to practice venipuncture. A poor location will also add more stress, travel time, and expense.
Most programs take anywhere from a few months to a year to complete, depending on if you choose to become certified. If time is a factor, online options can sometimes work well. You'll find it much easier to work around your schedule.
The Typical Phlebotomy Training Program
The classroom setting is where you'll spend a majority of your time. Students will cover the following subjects:
Anatomy & Physiology of the Body: All the major systems of the human body will be discussed. This includes the respiratory, circulatory, skeletal, muscular, and urinary systems. Knowing the body inside and out is imperative in order to make accurate decisions. Students will also learn blood cell composition, and how blood itself 'works' within the body.
Venipuncture: This is the actual practice of taking blood from a patient. But there is more than one way to complete the process, especially when you consider the type of patients you'll be coming in contact with. For example, a baby won't get his/her blood drawn the same way an adult man would. Knowing different variations on venipuncture is an important skill to learn.
Lab Procedures: General safety rules need to be learned as you'll be in and out of the medical lab with blood samples each day.
Basic First Aid/CPR: Most training programs will offer basic first aid and CPR certification within the time allotted.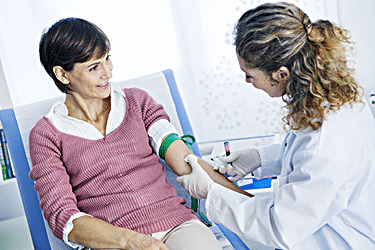 Outside of the classroom, or an online course, students in a training program will be expected to practice venipuncture. This is done on other students, or occasionally volunteers. Each training program may have slightly different requirements, but typically in order to graduate from your training, you'll need to make a minimum of 50 successful venipunctures.
Once you've completed a standard phlebotomy training program, and have additionally completed the correct amount of venipunctures needed to pass, you can begin your job hunt. But many states now prefer phlebotomists who have taken the extra time to get certified.
How to become a Certified Phlebotomist
Although training covers a lot in a short period of time, certification is important/obligatory in certain states. Certified training takes place after your standard training. Without completion of that, and a certain amount of venipunctures, you can't begin your additional training for certification.
Medical facilities seek employees who have showed more dedication. Anyone can take an eight-month training course and learn the basics, but someone who is dedicated to becoming a phlebotomist should also be certified.
Certification will allow you to take on extra responsibility, depending on your state. There are different types of certifications in different states, and these affect what you're doing on a day-to-day basis. Here some info on the levels of certification:
Limited Phlebotomy Technician – Someone who is allowed to only perform blood collection by puncturing the skin.
Certified Phlebotomy Technician I – They can perform both venipuncture and skin puncturing, with over 1,000 hours of active work. This usually happens within about 5 years.
Certified Phlebotomy Technician II – This certification allows you to do skin puncturing, venipuncture, and arterial puncture for blood collection.
Phlebotomy Certification Testing
One of the biggest components of a certification test is safety. Even minor infractions can lead to issues with patients, or even yourself. So, throughout your certification training, you'll learn about safety procedures. Here are some examples:
Hazards in the workplace
Sterilization of equipment
Correct equipment disposal
You'll also learn how to deal with patients. You can be excellent at venipuncture, but how you interact with patients matters a lot. Responsibilities range from the elderly to children, and from people with special needs to people who simply don't want to have their blood drawn.
Find out what your state requires and meet those guidelines. If your state doesn't require certification, don't feel as though you're somehow missing an opportunity. You can go back and take the certification exam, so it's not needed immediately after your initial training.
Certification is a great option. It likely won't be long before most, if not all states, require it as a prerequisite to employment. So, if you're interested in a successful phlebotomy career, it's a good idea to look into certification.
Duties of a Certified Phlebotomist
The duties of a phlebotomist include the following:
Working Directly with Patients
Think about the best experiences, compared to the worst experiences. What made the difference? Most likely, it was the person drawing the blood, how good they were at their job, and how comfortable and relaxed they made you feel.
Having the right personality, mindset and attitude can make all the difference. Patient care is the top priority!
Keeping an Organized Station
You might not think of staying organized as a job 'duty,' but it's imperative. First and foremost, you have to practice patient identification. This can get confusing at times, especially if you're working in a busy hospital and have to be on multiple floors. Understanding filing systems, whether they're digital or hard copies, is an important first step toward keeping your patients organized each day.
Drawing Blood
There are different methods of drawing blood from patients, and what you choose to do depends both on your experience. Their preferred method will typically show in the patient's chart. Each patient is different, and an ability to adapt is important.
You're now ready to collect their blood sample, typically in several different vials. Again, organization comes into play as labeling the vials with the right names, dates, etc. prevents errors. You'll learn about proper labeling techniques during your training and certification.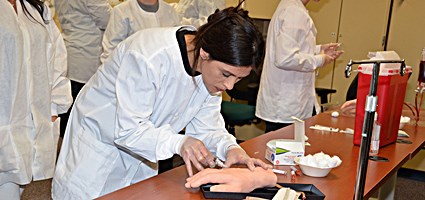 Working in the Lab
After you collect blood samples from your patients, you'll be responsible for transporting them to the lab. You'll need to make sure that they're all labeled properly and organized correctly.
In some cases, they are allowed to centrifuge blood samples. This varies by state, and if you are allowed to, it will likely be covered during your course. If not, you won't have to concern yourself with anything other than transportation to the lab itself.
Centrifuging blood samples is a way of 'separating' them so that the different components of the blood are visible. These components include plasma, the 'buffy coat,' which is a layer of white blood cells, and erythrocytes (red blood cells) at the bottom of the vial.
This makes it easier for the lab to run their specific tests and determine any issues with a patient's blood. This is the most lab work a phlebotomy technician will ever do, without additional training.
Practicing Safety Procedures
You'll learn operating procedures that are intended to keep both you and the patient safe. If phlebotomists accidentally get stuck with needles, cross-contamination can occur. There are so many things that can go wrong if you don't abide by the rules. Complying with the protocol is necessary as it could lead to a health risk, and that could lead to instant dismissal.
Career Opportunities for a Certified Phlebotomist
There are plenty of opportunities for new entrants, as long as you know where to look and how to apply.
The most common places for phlebotomists to work are hospitals and clinics. If you live near a bustling and busy hospital, put in your application. Better yet, when you start your training, see if that hospital offers a program.
Private practices need certified staff, especially if they're busy. You can check community health centers for opportunities. Some certified graduates work on a 'freelance' basis. Essentially, you're your own business and can be 'hired out' for jobs with a private practice, clinic, etc. This is good if you want more control over the hours that you work.
Don't get discouraged if you can't seem to find employment right away. Typically, hospitals will put your name, resume, and application on a waiting list. If they're not currently looking for someone, the chances are they will be soon. Think outside the box when it comes to initial employment. There are other options that can put your skills to work, offer a lot of experience, and look great on a resume.
Internships & Volunteer Experience
A great way to get experience after becoming certified is to look for a promising internship or volunteer opportunity.
Hospitals and clinics. It's favored to have students go through internships in hospitals because then they can learn procedures, safety rules, etc., while on the job. This makes you a more favorable hire since you already know the 'ins and outs' of that particular clinic.
Blood banks. Organizations, like the American Red Cross, have mobile blood drives and are always looking for certified employees.
Nursing homes and prisons. Both facilities have a medical area and have regular patients who need blood drawn for various tests, etc.
Veteran's clinics. While typically part-time, and may not offer monetary compensation, they look good on a resume.
Volunteer work can give you a great way to either get your foot in the door or improve your resume. Think outside the box if you're having difficulty finding a job. The work is out there, but you'll need to be determined and proactive.
What is the Career Outlook for Phlebotomists?
Phlebotomy is a booming career due to advances in medicine, and because the 'baby boomer' generation is getting older. That's a huge generation of people who are starting to need more attention.
Because of that kind of growth, the outlook is strong and expected to increase quite a bit more within the next few years.
The U.S. Bureau of Labor Statistics has stated that this industry could grow by up to 10% in the next two years.
Between improvements in medical testing and a growing/aging population, it's safe to say the phlebotomy industry shows no signs of slowing down.
On a more individual level, you may be wondering what a career outlook might look like for you. It's safe, secure, and reasonably well-paid.
Most phlebotomists make $20,000-$25,000 per year as an entry-level employee. Certification can increase this salary, and if you choose to continue your education, get more experience, etc., there is plenty of room for growth. Of course, your salary will also depend on where you work.
Enjoy a Long & Rewarding Career
The employment opportunities – whether you want to be in a busy hospital, or work on your own terms – are virtually endless. And it's clear this industry won't be slowing down at any time in the next decade.
In fact, as technology continues to advance, the need is only likely to keep increasing. It's never too late to start a rewarding career in phlebotomy. Becoming certified takes less time than earning even an associate's degree, and your growth will be based more on experience. It's the perfect short course for career changers.
If you want a career in medicine, or just want a stable career, phlebotomy is a great opportunity. Find a training course near you, or look online for available courses, making sure that they coincide with a local facility where you can practice venipuncture. Once you begin training, and start down the road toward certification, you can look forward to a successful career.
[/su_list]